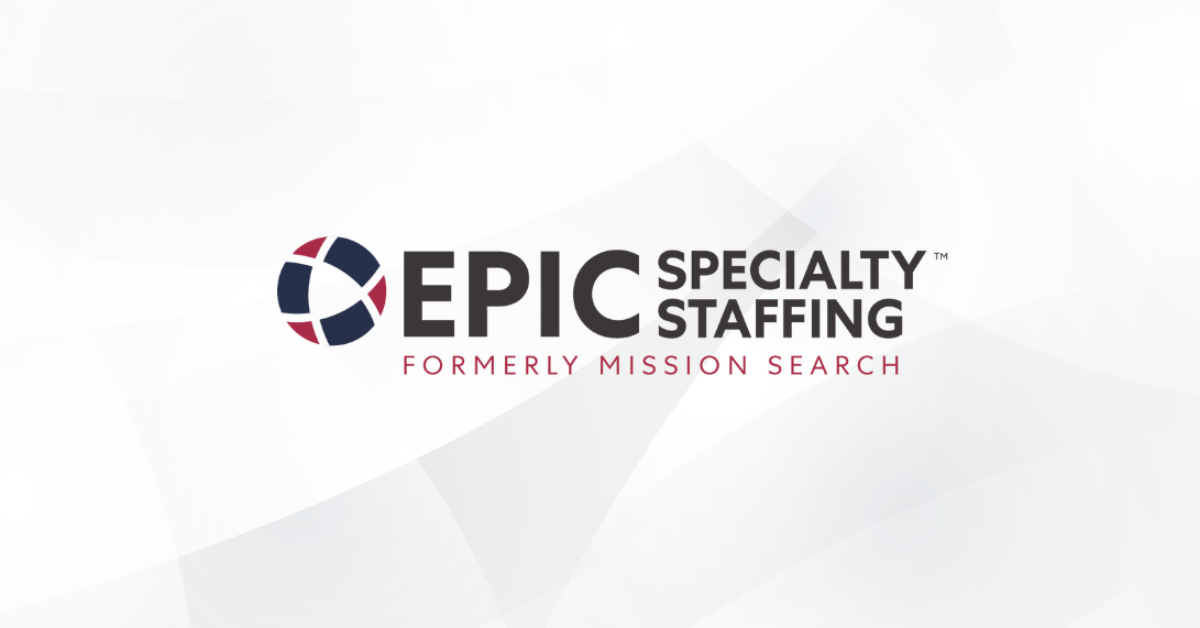 Mission Search is now Epic Specialty Staffing, Oncology & Leadership
New Name, Same Great People
Exciting news! Mission Search and PDC Staffing have joined forces and rebranded to become Epic Specialty Staffing, which consists of market segments for Cardiovascular Staffing, Oncology Staffing, and Leadership Staffing. By integrating the several divisions within Epic Staffing Group, we are positioned to offer a wider range of resources and comprehensive solutions. Rest assured, our mission to provide outstanding services and support to our healthcare professionals and hospital partners remains unchanged. 
We are proud to share our new logo design, which captures our dedication to innovation and excellence within the staffing industry while showcasing our adaptability to the ever-changing healthcare industry. With this new emblem, we aim to reinforce our promise to provide tailored and timely solutions that cater to the unique requirements of both our clients and job seekers.
Stay tuned as we roll out our new look across our online platforms to align with our new name, Epic Specialty Staffing. We're thrilled to unveil our fresh appearance and continue providing top-notch services to our clients.
Reflecting on the benefits brought on by the integration with Epic Staffing Group, Patrick Smith, President of Epic Specialty Staffing, shares his perspective on how the business has maintained its values while embracing new opportunities:
"Being a part of Epic Staffing Group has allowed Epic Specialty Staffing (formerly PDC Staffing and Mission Search) to maintain our values and reputation while also benefiting from the expansion and this larger group's resources and expertise. The rebranding under the Epic family has opened up numerous opportunities for us, and we are well-positioned to take full advantage. Our team, employees, and partners are stronger than ever, and we are now able to offer additional services to our customers. As a large and expert-based specialty company, we have not had to compromise our reputation or the quality of patient care our clinical professionals provide in any manner as a result of joining Epic. Quite the opposite, as we are in an excellent position to leverage our competitive standing and maintain the high standards of patient care our clients have come to expect over the last 20+ years."