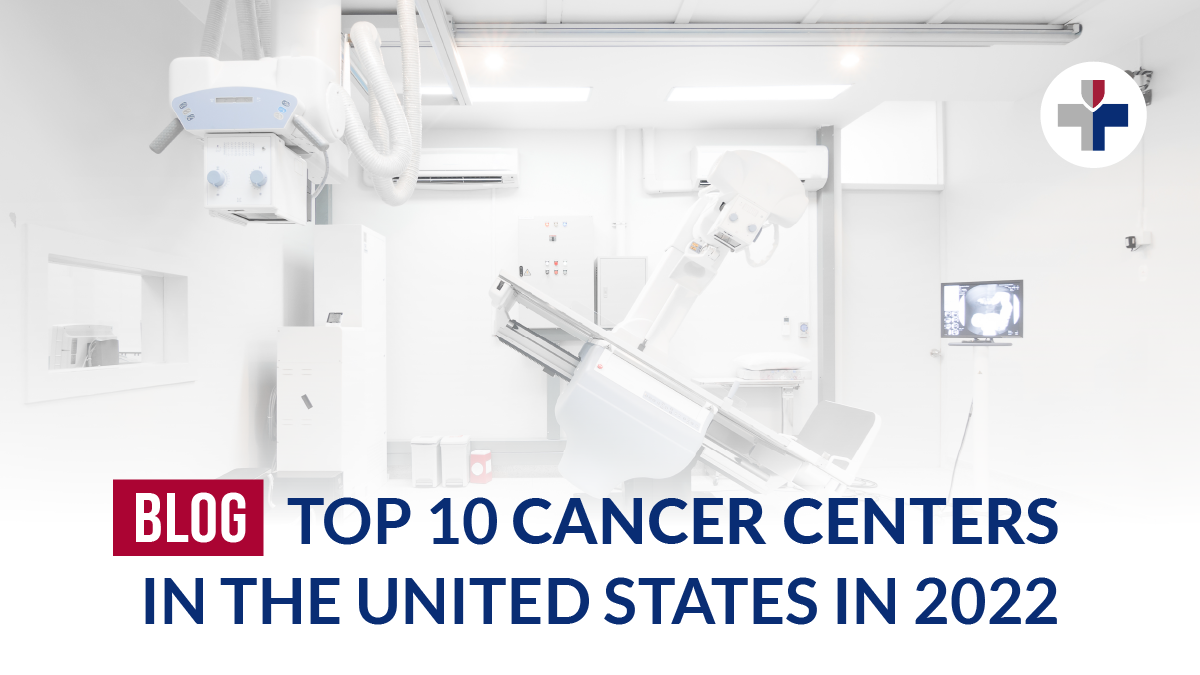 THE TOP 10 CANCER CENTERS IN THE UNITED STATES IN 2022
When it comes to cancer care, everyone agrees on one thing – they want the best. As a trusted partner in high-quality leadership staffing and patient care, Epic Specialty Staffing works diligently to ensure that cancer hospitals' workforces are adequately staffed with only the top candidates. Thus, staying up to date on the recent medical science, research, and patient care is crucial.
We reviewed the latest analysis and rankings from U.S. News & World Report highlighting cancer centers in America known for their outstanding patient care in the field of oncology, including leukemia, lymphoma, melanoma, breast, kidney, colon, prostate, pancreatic, head and neck, orthopedic, uterine and ovarian cancers. Each center has met the standard of patient care required by the National Cancer Institute to receive the official "Comprehensive Cancer Center" designation and we've narrowed down the Top 10. Read on to learn about the Top 10 Cancer Centers in America for 2022.
The University of Texas MD Anderson Cancer Center has maintained its status as #1 in the nation for cancer care for 2022. Since the survey's inception in 1990, the institution has been recognized as one of the nation's top cancer hospitals and internationally known for its pediatric cancer specialists. In addition, the comprehensive cancer center is the largest in the U.S. and one of the original three comprehensive cancer centers in the country. The physicians at MD Anderson contribute to the institution's recognition, staffed by a passionate team focused exclusively on cancer of every kind, providing expert care for every diagnosis.
Founded in 1884, the Memorial Sloan Kettering Cancer Center is the largest and oldest private cancer center in the world and is one of 52 National Cancer Institute–designated Comprehensive Cancer Centers. In addition to being one of the top cancer care hospitals in the nation, Memorial Sloan Kettering Cancer Center provides quality patient care through cutting-edge research, and renowned educational programs.
The Mayo Clinic Cancer Center is a nonprofit organization committed to clinical practice, education and research focused on whole-person care. Recognized by the National Cancer Institute as a comprehensive cancer center, their team is made up of over 4700 physicians and scientists at three locations, including Arizona, Florida and Minnesota dedicated to providing only the finest patient care.
The Dana-Farber Cancer Institute is internationally renowned for its dedication to cutting-edge research and quality patient care. The team at Dana-Farber focuses on specific cancer types to treat both adults and children living with cancer. The institution is composed of researchers and specialists working diligently to offer the latest therapies and clinical services to patients in need.
The Cleveland Clinic is a nonprofit medical center home to more than 700 doctors, researchers, nurses, and technicians delivering specialized care to thousands of cancer patients each year. In addition to its recognition as one of the top cancer centers in the U.S., the institution is also ranked as the #1 cancer center in Ohio, known for excellent patient care, research team and education tools to provide quality results.
The Sidney Kimmel Comprehensive Cancer Center at Johns Hopkins Hospital is an NCI-Designated Comprehensive Cancer Center in Baltimore, MD. Established in 1973, the institute received its NCI designation that same year as one of the first designated cancer centers in the country. Known for treating over two dozen types of cancers, this cancer center has led the world in deciphering the mechanisms of cancer and new ways to treat it with outstanding results and patient care.
Northwestern Memorial Hospital Cancer Center is ranked among the nation's top cancer facilities and No. 1 in Illinois. Dedicated to providing comprehensive care alongside ground-breaking research, the team has undergone various clinical trials and new treatment options for several patients where it was otherwise not offered.
The UCLA Jonsson Comprehensive Cancer Center is on the list of few U.S. cancer centers designated with the National Cancer Institute. First recognized in 1976, the hospital has held its designation for over 40 years. Their cutting-edge research and team of dedicated physicians and scientists are part of the recognition, bringing the latest discoveries to various fields of medicine, including oncology.
Founded in 1902, the Samuel Oschin Cancer Center located at Cedars-Sinai Medical Center has been part of the fight against cancer for over a century. Their team of expert physicians, scientists and researchers treat over 60 types of cancer while detecting its various causes, researching devices and therapies to provide patients with the latest in cancer treatment.
Abramson Cancer Center at Penn Presbyterian was designated as a comprehensive cancer center by the National Cancer Institute in 1973 and has been ranked as an exceptional cancer center in the U.S. year after year. Their team specializes in hematology and oncology, providing patients with the latest advances in cancer prevention, diagnosis and treatment.
Providing Top Candidates to the Top Centers
Epic Specialty Staffing is dedicated to connecting talent with opportunity. We're proud to connect high-quality, experienced, and dedicated radiation oncology professionals with the top cancer centers nationwide to provide those battling cancer with only the best care.   
Further Resources: